We believe Seido Karate Timaru offers the most comprehensive programme available in physical fitness, meditation, and self-defense. We are a serious martial arts school and are looking for highly motivated men, women and children who are interested in improving themselves mentally and physically. We provide you with the programme, supervision, and atmosphere of traditional karate, which allows you to realise your full potential for growth and achievement.
We own and train in our own purpose fit dojo.
World Seido Karate Organisation
Seido Karate is a traditional martial art style, founded in 1976 in New York by Kaicho Tadashi Nakamura (after he respectfully withdrew from Kyokushin Karate). He continues today as the head of the World Seido Karate Organisation, which now has over 150 branches across 6 continents, including over 30 dojos in New Zealand.
In New Zealand, the branch is managed by branch chief: Eiko Hanshi Renzie Hanham (Christchurch), an 8th Degree Black Belts.
Sei Shihan Sandra Wiggins and Jun Shihan Dave Moore, both 6th Dans, took over the running of the dojo in June 2019 after Sei Shihan Michael Higgs' passing. Both head instructors have been training with Timaru Seido Karate for over 35 years, including training in Honbu, New York.
Sei Shihan Michael Higgs was a 6th Degree Black Belt in the World Seido Karate Organisation. He taught for 42 years, taking over the Timaru Branch as a green belt in 1977. He passed away on 10 June 2019.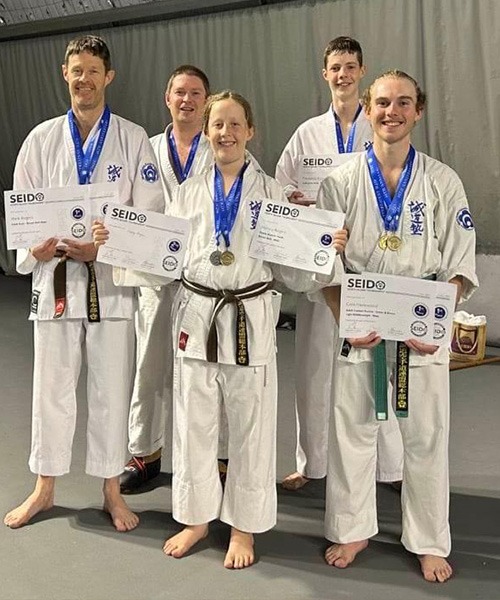 Dojo
A dojo is a training hall or a place of learning and enlightenment. Dojo etiquette is about taking responsibility for your actions and acting in a way that shows pride in oneself. It's based on respect and respect to seniors is paramount. It takes a great deal of hard work, determination, and perseverance to move up the grades, and that demands respect from students, and any person entering the dojo. We all work to keep our dojo clean and comfortable. Wiping the floor after class, cleaning up after yourself, and making sure you adhere to dojo etiquette shows pride in the dojo and Seido karate. After all, it's the reason we're all here.
Osu
Osu is a greeting or understanding. It's also a constant sound heard by everyone who is serious about Martial Arts. It means hello or goodbye, or to "try my best." Osu is a mark of respect for senior grades. It's acknowledgement and recognition for their knowledge, ability, extreme perseverance, and dedication. When commands are given in class, respond by saying "Osu" loud and clear. It reaffirms your commitment to train hard and improve yourself.
Meditation
Meditation is done at the end of each class and is part of your learning process. It's a way of balancing and creating harmony of mind and body after class.
Bowing
Bowing is a gesture of respect in all serious Martial Arts and is not a symbol of subservience. It is an acknowledgement of the responsibility to care for others during practice. With the bow, partners agree to take responsibility for each other. This understanding is an agreement of honour and should be practiced accordingly.
The club was started in May 1975, by Sempai Dick Ivess. The first night of training had over 120 students keen to learn. Training was held at the Zingari clubrooms, later moving to the Boys' High gym. The club, like Christchurch, was at that time called Mas Oyama Karate do.
Not long after starting the club, Sempai Ivess went to New York for six weeks of intensive training under Shihan Nakamura.
With the breakaway of Shihan Nakamura from Mas Oyama in early 1976 the Christchurch club was asked to join Seido. Having close ties with Christchurch through Sempai Ivess, Timaru joined Seido too.
As time went by students went through the grades so that by November 1977, when Sempai Ivess left for a new job in Palmerston North, the club had about 55 training students with 2 senior Green belts. With Sempai Ivess leaving it was decided to continue the club with Michael Higgs taking over. In February 1980, Head Instructor Michael Higgs went and trained in New York Honbu for 7 weeks intensive training and he was awarded his Shodan.
By May 1978, it was decided to find our own clubrooms and on 8th January 1979 the club started training above Desmond Unwins. The club today owns and trains in its dojo on High Street.